Best anatomy books
for artists
The best anatomy books for artists explain complex structures through visual language and present information systematically. This is the big difference between finding references on the internet or anatomy textbooks intended for medical students. I've compiled a list of the best books on animal and human anatomy for artists in this blog.
How to study anatomy for art the best way
One of the best ways to study animal and human anatomy for art is through books intended for this purpose – they feature reliable references that let you understand anatomical structures and observe their forms and movements. Of course, having a live model in your training would also make a big difference, but one is rarely available.
At first glance, the internet seems full of anatomy references, but you very quickly discover that you're missing out on many important details. In contrast, the best anatomy books for artists mentioned in this blog are put together in such a way that lets you really understand animal and human anatomy. This, in turn, frees you from always copying references and enables you to be more creative.
1. Anatomy for Sculptors handbooks by Uldis Zariņš
Anatomy for Sculptors handbooks give visual artists everything they need to create realistic human body forms – from head to toe. Being a dyslectic student, in the 2000s I developed a systematic approach to translating medical anatomy texts into visual information that I could use while sculpting. I used the same system in my books, and now the Anatomy for Sculptors handbooks are bestsellers among visual artists striving to better understand the human form.
2. Der nackte Mensch by Gottfried Bammes
3. Human Anatomy for Artists by Eliot Goldfinger
4. Strength Training Anatomy by Frédéric Delavier
5. Artistic Anatomy: The Great French Classic on Artistic Anatomy by Dr. Paul Richer and Robert Beverly Hale
6. Drawing the Head and Hands by Andrew Loomis
I have to say right away that the way you learn human anatomy and what references and handbooks you use don't change much, regardless of what kind of visual artist you are. Besides learning anatomy, 3D artists might also find it helpful to look at other digital sculpting examples and study how different artists arrange their meshes and organize their workflows. That's exactly why I put this next book on the best anatomy books for artists list.
7. Anatomy for 3D Artists: The Essential Guide for CG Professionals by 3dtotal Publishing
Animal anatomy for artists
Artists who understand human anatomy already know a thing or two about animal anatomy. Take a look at this photo we posted on Anatomy for Sculptors social media: the color code showcases how similar the segmentation of facial muscles of humans and dogs is.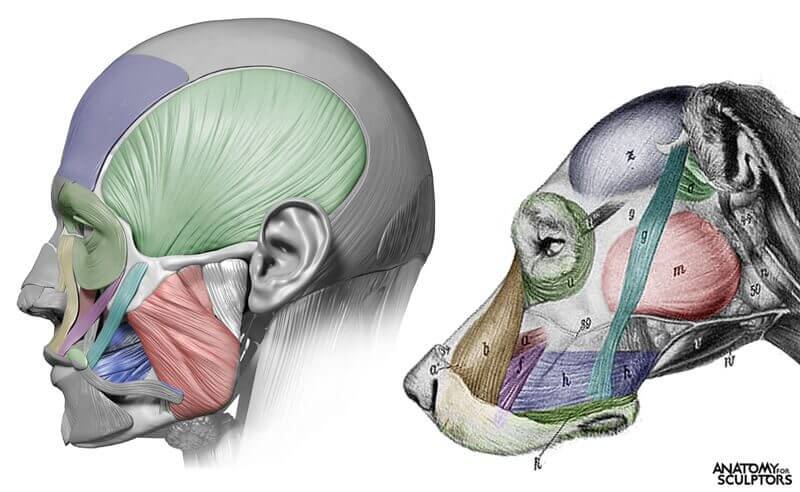 Animal and human facial muscles comparison.

But of course, you still need good references of animal anatomy. This section will show you three of the best anatomy books for artists focused on animals. It includes a book with precise and systematic depictions of animal anatomy, a book with some real-life examples that have more flesh and volume, and a book that shows you animal anatomy in motion.
8. Animal Anatomy for Artists: The Elements of Form by Eliot Goldfinger
9. An Atlas of Animal Anatomy for Artists by Wilhelm Ellenberger
10. The Art of Animal Drawing: Construction, Action Analysis, Caricature by Ken Hultgren
Be the first to receive news about upcoming books, projects, events and discounts!